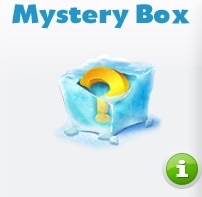 Players with a VIP level of Bronze or above receive a Mystery Box, which they can open from the Special section in their shop, at regular intervals. The higher the VIP level, the shorter these intervals are:
VIP Copper: no mystery box
VIP Bronze: every 7 days
VIP Silver: every 6 days
VIP Gold: every 5 days
VIP Platinum: every 4 days
Mystery boxes contain Fun Buildings and Decorations, many of which Limited. Examples include Bumper Cars, a Love Nest, a Small Spring, a large Soccer Tree, Tombstones, a Jack-O'-Lantern, an Egg Painting Station, a Red Easter Egg etc. Very rarely, a player will receive 10 Silver Coins.
Important! No notifications are being sent when the Mystery Box is ready for pick-up, so players need to watch the clock and go look for their Mystery Boxes in their shop at the right time for themselves.
Please add what you received in your Mystery Box in the comments section!
Community content is available under
CC-BY-SA
unless otherwise noted.