Piranha

Level

3

Price

50

Recharge Time

3 Minutes

Income (Full Family)

1,200

Experience (Full Family)

6 level 10 - 24

Egg Hatching Time

1 Hour

Sea

, Aquatic Life
To obtain this ice world Animal, you must complete the "Starter Pack" Collection.
The Piranha has the greatest potential earning power of any animal, since it can produce an average of 400

per minute. Therefore, early on in the game it could be your main source of

. It could also be the main source of losing your arm.
Incomplete Family Earnings
Family Members
1
600
3
2
750
3
3
900
4
level 10
24
complett family : max level 10 : 24 xp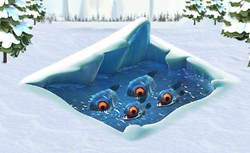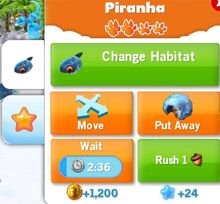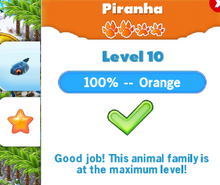 The Piranha is the only collection reward that costs to purchase the rest of the family.
The Piranha is also featured in Kung Fu Scrat.