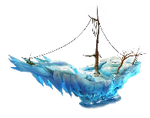 Sid's Egg Rescue is a mini-game available at 
level
30 and unlocked when you complete a certain
mission
. You can play it by clicking the Pirate Ship next to the main island. The background of the game is shown in a short cutscene - Sid loses one of his eggs in the ocean, causing him to jump in the water to retrieve it.
The game is based upon you having to get the egg without swimming into Spiky Fishes or Piranhas. To avoid them, the user has to swipe left or right on the screen. To increase your score, swim into score bubbles, which contain 100 - 300 points.
Additionally, rarely an acorn will appear in a bubble for an extra prize. So unlike KFS, there is value in playing the game all the way through, instead of just letting it run.
If you get hit by a Spiky Fish or Piranha then there is the option to continue playing by spending an

to revive yourself. There is no value in doing so - what you score doesn't affect the prize!
After a certain amount of time swimming, Sid will reach the bottom of the ocean and collect his egg. The screen then changes to the spinning wheel reward screen.
The prize system is the same as Kung Fu Scrat - and is not affected by whether you reach the egg, or how big your score is. The prize for the first time you play will automatically be the

jackpot! See the Kung Fu Scrat page for details on the prize awards.
The animal prize available in Sid's Egg Rescue may not be the same animal prize in Kung Fu Scrat.
Community content is available under
CC-BY-SA
unless otherwise noted.